Contact us at gardenreflexxx@gmail.com

Videos here
CV here


We are currently in Fiji shooting Thank You as Mood Ring, our collaboration with Stelly G and Kiki Oner. A homecoming love letter to a friendship.




We just returned from North America filming Multiple Mothers, a documentary spiralling out from the decades long inflatable, weaving and performance practice of Canadian/Australian artist Evelyn Roth.




We are also finishing our debut full length movie Grape Steak.



Garden Reflexxx
is a moviemaking collective between Jenny Atherton and Andj Shannon.

Exhibitions, writing and festival selections include:

Museum of Contemporary Art
(Eora/Sydney);
Seventh Gallery (Naarm/Melbourne);
Verge Gallery (Eora/Sydney); Powerhouse Museum
(Eora, Sydney), Slamdance Film Festival (Ute Country);
The Lincoln Centre for Performing Arts (Manhattan);
Performance Space Liveworks: Day For Night (Eora/Sydney); Dancehouse (Naarm/Melbourne),
Soft Centre (Eora/Sydney),
Soft Stir (Eora/Sydney) and their radio segment Movies, Movies, Movies broadcast through FBi 94.5 where they have interviewed some of the world's most influential filmmakers and performed film criticism since 2018.

And we showcase realistic films at 'Garden Reflexxx Presents'
at Pink Flamingo Cinema
a film festival celebrating resourceful cinema.(Eora/Wangal/Sydney).

Third-person bio
(to be read aloud):

By finding natural bridges between independent production and arthouse, Garden Reflexxx's singular open-filmmaker artistry upends mono-director banality, meditating on group play and experimental making. Their works cut resourcefully between improv, videographic imagination, spiritual logic, impulse, and the mistakes-curious family movie. Permitting a form of neo-intimate portrait film. In their world words outrace ideas, crashing at the finish line - talk explosions as a penultimate monument. Collapsing through industry burnout or excessive artmaking lands an oeuvre of films, installations, criticism, radio, and iPhone poetry. A practice of interminably ongoing rushes-party bedroom productions where Time and Patience are one candle burning at both ends. The result? An inexhaustible enthusiasm for everything-film that finds humanism out of order and representation immediate: random-family orientated. By journeying through, their films create a seduction of spectacle. The chaos of relationships. Metropolitan situations without role models. Super-natural gay films.

Garden Reflexxx motion pictures are a certain marvel that rests in pieces, and encourages audiences to laugh at calamity. Every work puts a moment down like nobody's business, and renders it meaningful.
Garden Reflexxx Posters
by Alexander Tanazefti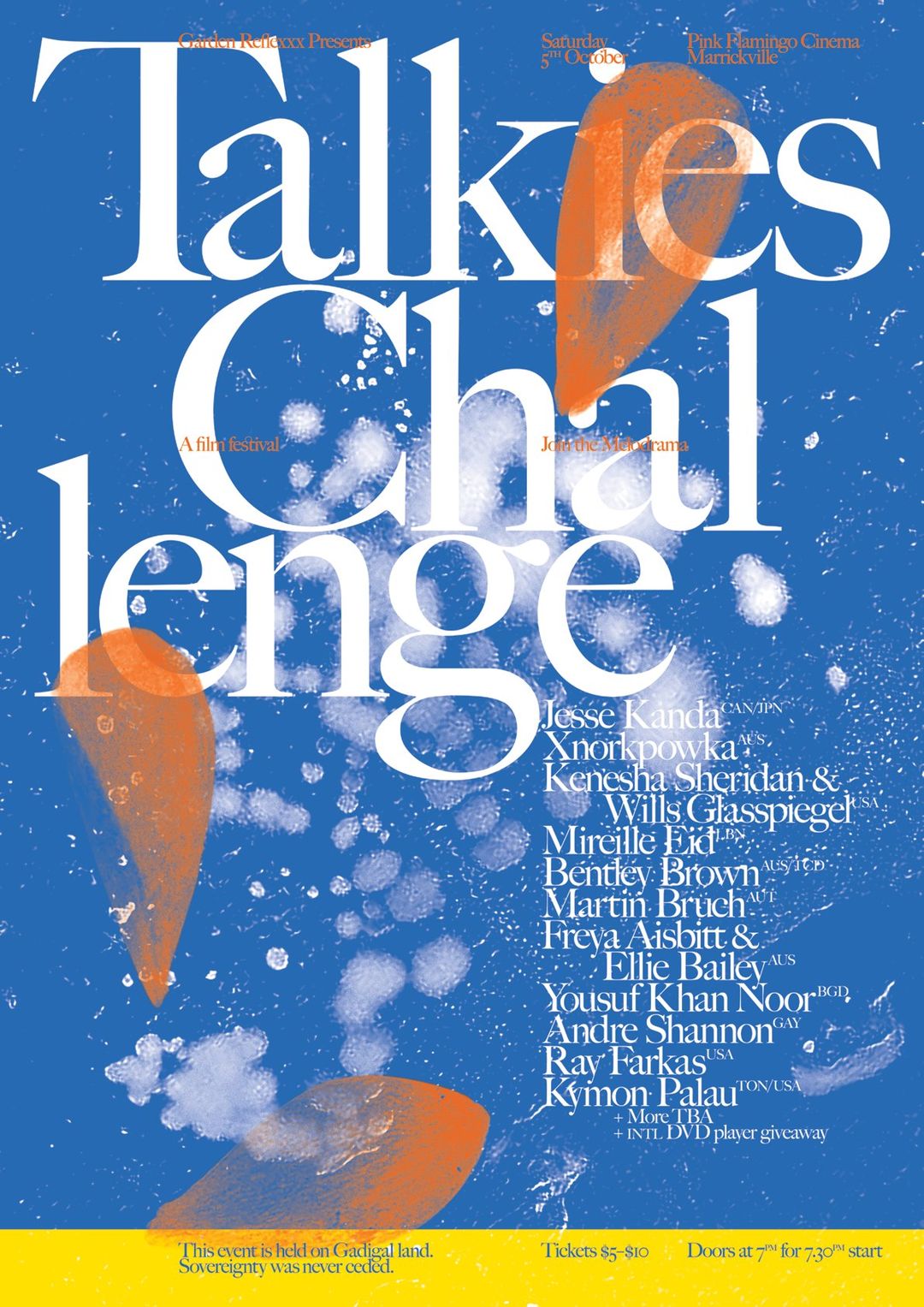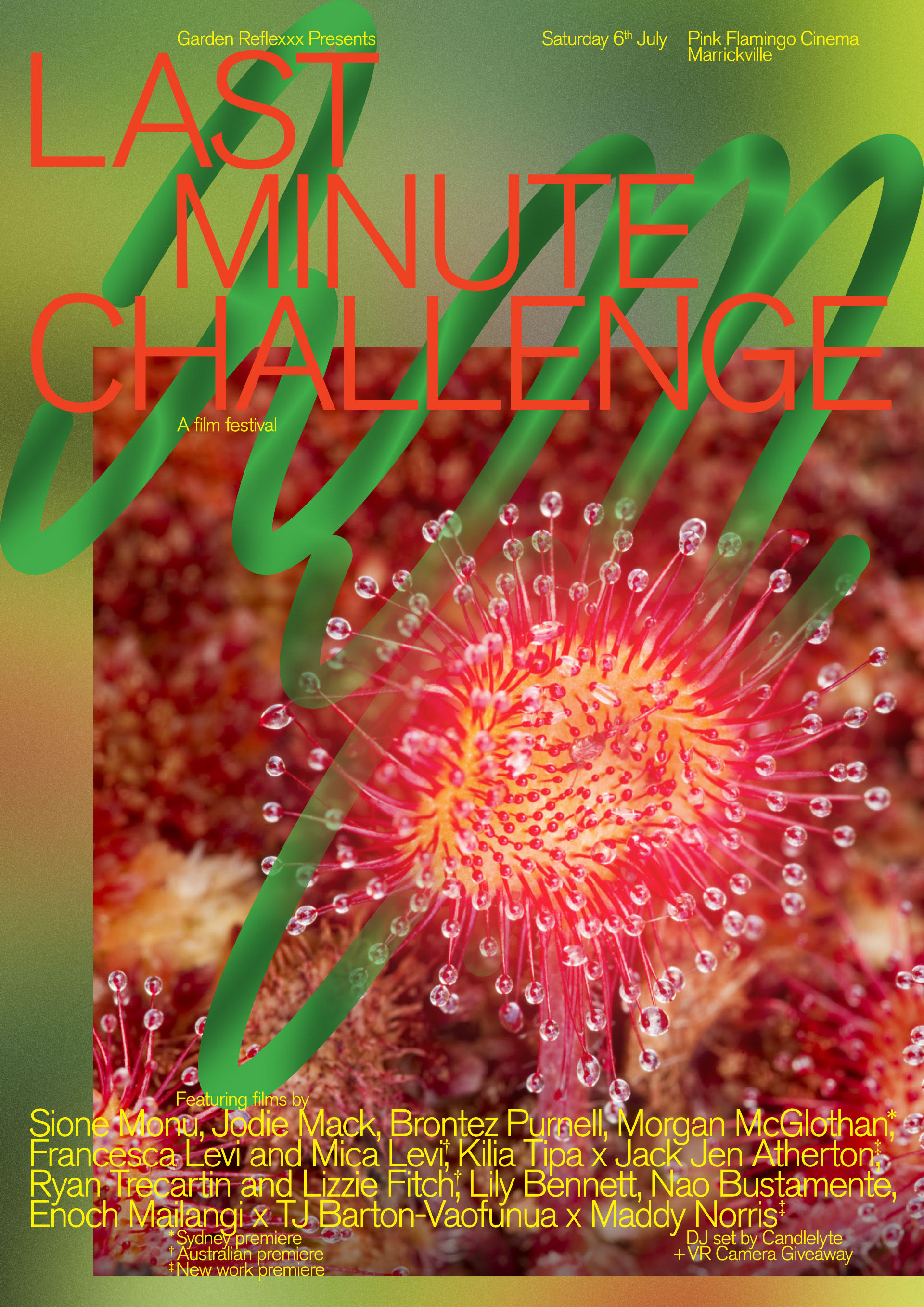 Refluxxx posters
by Andj Shannon




Background video: 'Dust'
a collaboration with Blake Lawrence, shown at First Draft in 2021.




Operating on stolen Aboriginal Land: the land of the Gadigal and Wangal People of the Eora Nation. Sovereignty was never ceded.